The fashion and entertainment world was devastated recently by the apparent suicide of L'Wren Scott – fashion designer and long-term partner of Mick Jagger, front man of The Rolling Stones. Rumours swirled around the reasons why she may have chosen to end her life: financial problems, bankruptcy and a potential split with Mick.
Despite the negative rumours, I really would love to celebrate her incredible sense of style – how elegantly and regally (some may considered it snooty and aloof) she carried herself. L'Wren had a great sense of style and she applied this innate understanding to her clients…the idea that a woman wants to look sexy and that sexy does not need to be about revealing everything. Something that some modern starlets should take note of (Miley Cyrus, Courtney Stodden and Lilo to name a few names.)
L'Wren Scott obviously dressed for herself primarily.  She knew her limitation, her extreme height meant she was not able to wear too many high heels. Her signature silhouette became a very fitted sheath dress shape and using lots of rich materials such as embroidered fabrics, sequins and other embellishments that allowed her to remain stunning whilst growing old gracefully.
The designer understood that the key detail was to get her core dress structure right.  Once that was in place, the magic could happen.  Apparently she was such a perfectionist that she once ripped up 20 pairs of jeans and re-sewn them to create a pair for Mick that was just  right.  Her pursuit of perfectionism and her love of beautiful materials may have been a factor in her fashion house's apparent financial woes.
L'Wren Scott – Her brand and Her Look was the epitome of class…
L'Wren wearing her signature dress… slim fitting, sexy but also elegant and luxe with the sequin finishings….
Celebrities recognised her talent and she became a go-to designer for many stars dressing for the red carpet.  Nicole Kidman was a consistent friend and fan of her designs. Nicole and L'Wren's fashion partnership was successful as it celebrated Nicole's slender frame but gave her a curvy statuesque look.  I never really imagined Nicole Kidman as anything less than slender and ethereal but in L'Wren Scott's designs the actress looked like a glamourous woman who was proud of "vavavoom" curves and comfortable celebrating her success.
Bombshell Nicole wearing L'Wren at the 2013 Oscars…
Other fantastic Nicole Kidman wearing L'Wren Scott red carpet moments…
However, it was not just gowns that L'Wren could do. L'Wren created stunning day or even cocktail wear as shown on Ms Kidman, Amber Rose and others…
Less formal evening attire for a film promotional event…
 Ladylike Day Wear on Nicole Kidman (top) and Penelope Cruz (bottom)
Curvy ladies did not shy away from L'Wren's designs.  Voluptuous actresses such as the gorgeous Penelope Cruz and the original "hourglass" woman Christina Hendricks were fans of her dresses.  Christina always admitted that she had a lot of problems finding red carpet dresses designers for her and that L'Wren was one of her favourites.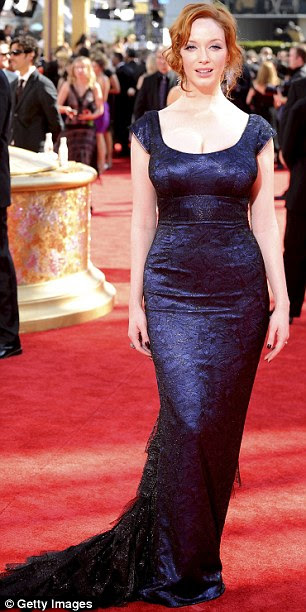 Christina Hendricks said 'L'Wren's clothes make you feel like a sexy pin-up'
My first proper immersion into L'Wren Scott's world as a designer was when she guest -judged the finale for Season 9 of Project Runway US.  Her understanding of the various designers' points of view and her appreciation of the amount work that went into the collection was gracious yet also constructive criticism.  My favourite line from her was regarding a sheer dress which she was not a big fan of…(sic) '…it doesn't always have to be on display, sometimes a little bit left to the imagination can be exciting too….'  That one phrase made me love her and it is true.  There is no need to have everything out there and for me personally, I REALLY do not want all my bits on show for public eyes.
Her dresses are for both the more "mature" and young women to walk the red carpet in a glamourous, sexy and tasteful way.  In a picture above, L'Wren wore a dress which was also worn by young star of the moment Jennifer Lawrence.
I am going to end this tribute to this designer with my favourite L'Wren Scott dress moment: Amy Adams wearing a L'Wren Scott capped sleeved, high-necked navy blue sequinned dress to the 2011 Oscars.  The simple cut with the high shine of the sequins accessorized with loose waves and some beautiful emerald jewellery pieces, is, in my opinion, the epitome of class, elegance and that Hollywood style.
Goodbye L'Wren Scott.  I will miss the amazing creations that you would have designed in the future…